The works of art of the maestros at the School of Art Nicola Zabaglia on display at the Istituto Portoghese di Sant'Antonio (corso Rinascimento) UNTIL 30 MARCH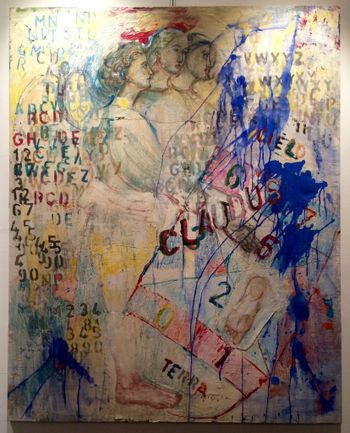 On the 9 March 2016 the second edition of ZAB ART was inaugurated. On display the works of art of the maestros of the Scuola d'Arte e dei Mestieri Nicola Zabaglia in Rome.
They are passionate teachers, but also committed artists.
On display the works of 21 maestros. Among them Alessandra Pasqualoni, whose painting Claudus, a big work made with pure pigments on damasc fabric (see picture), I liked very much, and Elisabetta Accoto, who presented two projects.
The first one, a very original and personal one, develops the subject of food and propose it in a new and hardly recognisable way: the individual food items are taken, mixed, treated, enlarged, studied and analysed in order to understand their deepest essence. The result of this analysis, halfway between alchemy and profanation, is displayed on transparent sheets illuminated from the back side.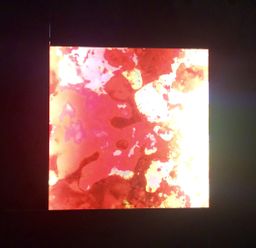 Also displayed at the EXPO in Milan, recently concluded, these works of art want to lead the public to think about the issue of "food" in the world: the food in terms of abundance, pleasure, obsession, and wastefulness in the developed countries; yet, the food as a primary need in the too many countries where  hunger, famine, and war make survival difficult -- where not impossible; still, the food as a gift of love for self; finally, the food not only as a physical nourishment, but sublimated in order to become food of the soul.
The second project is at the same time collective and urban. It envolves the pupils of Ms Accoto both as artists and protagonists (among them: Mariana Mandiburu, Marie-Christine Nasuti, and Roberto Palumbi), and proposes as a marble mosaic the old coats of arms of the districts in Rome. The objective is to give value to the art of mosaic. The medallions, which are very beautiful and original, are just waiting to be placed in appropriate institutional premises in Rome.
Alessia Paionni
---
Zab Art - Exhibition curated by Roberto Cumbo and Laura Mocci
Art Gallery of the Istituto Portoghese di Sant'Antonio in Rome (IPSAR)
Via dei Portoghesi, 6 (zona piazza Navona)
Opening times

Wednesday - Sunday: h 5 pm - 8 pm