ON DISPLAY UNTIL SUNDAY 13 MARCH                            TalentArt Gallery in Roma (Talenti)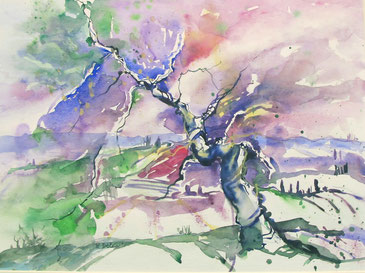 I love nature: the sky, the sea, the land.
I like to go for a walk in the woods,
and breath their scent.
I enjoy a lovely sunset
and a starry night.
I am thrilled when I see the fireflies
or a small cat breastfeeding her kittens.
The greem meadows make me feel good,
and their flowers are a joy to my eyes.
All this is a source of inspiration for my paintings.These are the emotions that I try to put into my works, following the teaching of my masters of art.
Watercolour is an istinctive technique, where no second thoughts are possible.
Its refined elegance penetrates my soul. Its lights, its shadows,
its transparency make me happy.
Maybe one day art and culture will improve humankind and the world:
as for now, watercolour has already changed my life in positive.
Patrizia Dolcini (translation by Alessia Paionni)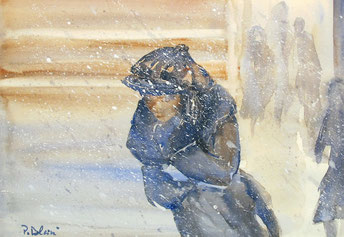 Patrizia Dolcini was born in Rome in 1953. She has always been interested and attracted by arts of painting. In the latest years, she found in watercolour her preferred technique, and in the English painter Edward Seago her first source of inspiration. 
Talking to Patrizia Dolcini, I realised two things. The former is that she is completely absorbed by painting, which also gives her a great joy; the latter is that such passion is easily recognisable in her works of art: they exude, emanated, and express her love for watercolours. This has been appreciated also by two of the most remarkable Italian watercolour maestros: Angelo Gorlini and Adriana Buggino.
I think that the best way to describe the works and research of Patrizia Dolcini is by using her own words, thoughts, and images: she is gentle but impetuous at the same time, sweet but also strong, passionate and instinctive even if technically impeccable.
For her, watercolour is pure joy, life, compelling force arising from the depths and defining itself without any need for fences or tracks: for making her paintings she only uses water and colours (as well as paintbrushes), with no requirement for preliminary sketch and pencil drawing.
Patrizia Dolcini paints, experiences, searches, and makes all this only by using watercolours. Her research is in fieri, is ongoing, and I believe that it will take her far away.
Is it possible to donate a thought, a sensations, a feeling? Yes it is, with Patrizia Dolcini's watercolour paintings.
We welcome her at the TalentArt Gallery for the first individual exhibition, open until 13 March.
Alessia Paionni
---
TalentArt Gallery

Via Ferdinando Martini 7 (Talenti)

Free entrance
Friday 11 March h 5 pm - 8 pm

Saturday 12 March h 10 am -1 pm / 5 pm - 8 pm

Sunday 13 March h 5 pm - 8 pm