Second edition of the small-size collective show                         8-16 April 2016
Are you an artist? Then take part in the exhibition!
This year the subject is:
"The unusual"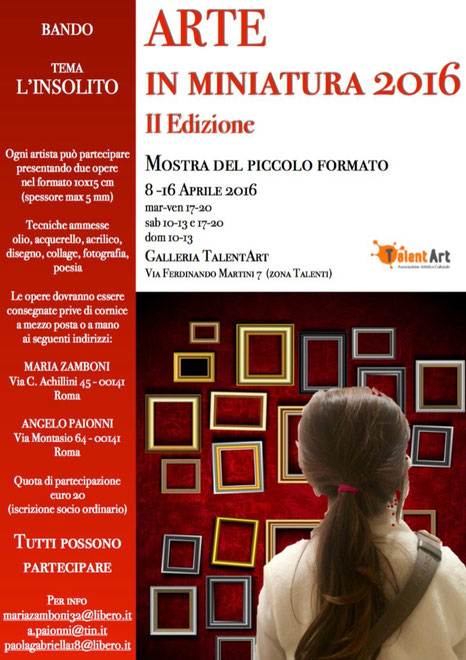 In order to participate to the show, please send up to 2 works of art of small size (10x15 cm, thickness max 5 mm)
UNTIL 31 MARCH 2016
to be delivered by mail (or by hand) to one of these postal addresses:
to Maria Zamboni - via C. Achillini 45 - 00141 ROMA
to Angelo Paionni - via Montasio 64 - 00141 ROMA
The participation fee is 20 euro (Ordinary Member membership for 2016 to the TalentArt Association).
All the expenses for printing and sending invitations, for posters and for depliants with the names of the artists participating to the show are borne by the TalentArt Association.
A special judging panel will select the best works and assign awards (in form of retail vouchers).
Art in Miniature 2016 Exhibition Announcement (only in Italian)
Bando Mostra Miniature.pdf
Documento Adobe Acrobat
97.2 KB
---
Friday 8 April, h 3 pm - 9 pm: OPENING OF THE EXHIBITION
GALLERIA TALENTART, Via Ferdinando Martini 7, ROMA (Talenti)
The exhibition will take place from 8 to 16 April at the TalentArt Gallery.
Opening times:
Tuesday - Friday: h 5 pm - 8 pm
Saturday: h 10 am -1 pm and 5 pm - 8 pm
Sunday: h 10 am -1 pm