Conference and guided tours organised by Inner Wheel Club FROM FRIDAY 11 TO SUNDAY 13 MARCH AT SPOLETO (PG)
A three-day event dedicated to the discover of the Longobardic roots of Spoleto and its surroundings, with a conference and a set of inedited guided tour: this is the programme of the event "L'Inner Wheel sulle orme dei Longobardi" (The Inner Wheel on the track of the Longobards) that will take place from Friday 11 to Sunday 13 March in the context of the homonymous European Project.
A unique occasion to admire the treasures of the Longobardic heritage in the territory of Spoleto, UNESCO World Heritage Site.
The initiative is organised by the Inner Wheel Club of Spoleto, chaired by Simona Granelli, with the patronage of Comune di Spoleto and Comune di Campello and Regione Umbria, with the scientific contribution of Centro Studi sull'Alto medioevo, Associazione Italia Langobardorum and the participation of Spoleto high schools and Casa di Reclusione di Maiano.
Alessia Paionni
PROGRAMME
Friday 11 March:
Guided tour of Clitunno Temple and exclusive guided tour of Parco delle Fonti del Clitunno (Clitunno's springs Park).
Saturday 12 March:
Guided tour of the Basilica of San Salvatore
Guided tour of the mosaics at Palazzo Mauri, by dr Livia Nocchi
Conference on "Spoleto at the age of Longobards" regarding the history, art and cultural identity of the Longobards.
Guided tour of the exhibition "Longobards seen by children" at Palazzo Mauri.
Longobards themed dinner, with a performance by Diletta Masetti.
Sunday 13 March
Guided tour of Rocca Albornoziana and museo del Ducato,
Holy Mass at the Cathedral
Lunch with farewell
For information and booking, please contact: beatricemili9@gmail.com
(preferably by 9 March)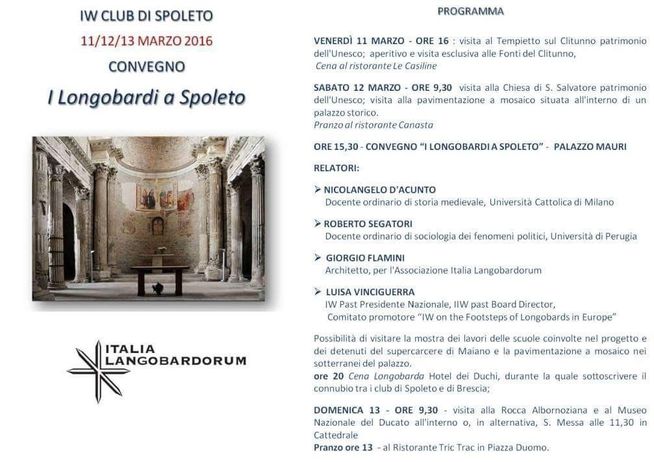 ---