On display in Rome works of art of four international artists for the new trend "Transformer" - for adults and children      UNTIL 28 MARCH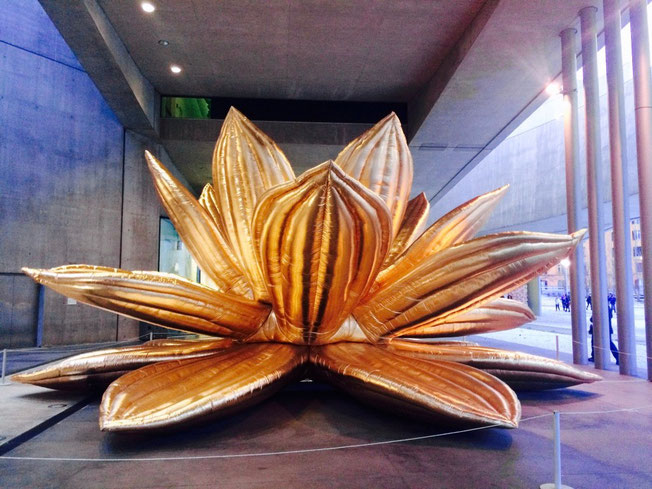 World has always changed. It is a fact, however, that in the latest decades the transformation process has stepped up in a sudden way, never experienced before: new technologies contribute to change the reality, our reality, day by day.
Transformation is now, more than ever, a key world in our times and lives. This is where the artistic trend called Transformers, visible in the West but even more present in Asia, Latin America and Africa: transformers are artists that seek to respond to the challenges posed by transformation, both through resistance and through innovation, taking into consideration the issues linked to social participation and ecological sustainability, to economic crisis and immigration. First of all, transformer artists create innovative estetic values and social spaces, prima facie happy and funny, but at the same time representing an opportunity for a deeper thought on subjects like peace, war, violence, and on the cathartic significance of art, music and creativity.
As if to say that, in the end, only arts will save us.
Choi Jeong-Hwa is a Korean artist that transforms "art and architectural installations" into provocative manifestations for good values and a happy life. His works have an effect that is, in my opinion, not far from the short stories of the taoist thinker Chuang-tzu: at first sight, they seem to be light and ironic; on the contrary, however, they are full of hidden meanings. Every time, they have gone an extra step compared to what their appearances show. Just like the balloons on display in his installation called "Life life": at the beginning of the exhibition, they were all filled with air and swollen; after a few weeks they appear as you can see them in the picture above. Guess how it (life) will end ?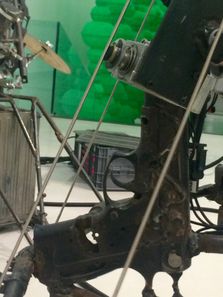 Pedro Reyes, architect by training, is a Mexican artist. He comes from one of the most violent, bloody, and corrupted countries of the world. His work is entitled (guess what?) "Disarm", and -- as far as I am concerned -- is extraordinary. Reyes took hundreds of weapons, dismembered, emptied, and made them inoffensive. Then, with their various sections and parts he assembled musical instruments, which you can play for real (they have been played during a concert, which has been recorded: the video is on display at the exhibition).
For sure, the ensemble is quite impressive. They are weapons, after all, and were made to injure and kill people! Yet, Reyes has succeeded in giving them a new life, much more uplifting compared to their previous one. This fundamental contradiction generates ambivalence and ambiguity that are typical in the works of this artist, always suspended in between the concepts of utopia and functionality, individualism and community. Through his art (and through music, as well), he strives to realise social transformation.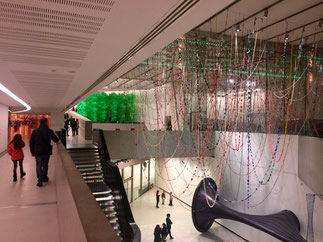 Didier Fiuza Faustino, French-Portuguese architect, designer, and artist, challenges our conventional spatial consciousness and behaviour by designing devices that force us to confront our own physical and mental limits. On the one hand, he makes us explorers that investigate the urban space, especially suburbs and abandoned places and buildings; on the other hand, he also subverts the common perception of the places around us.
The fourth transformer on display at the MAXXI is an Italian artist, Martino Gamper, whose works are halfway between craftmanship, art, and design. Have you accommodated yourself on one of the original blue and orange chairs placed around the hall at the first floor of the Museum? Yes? Then, you may have found yourself in the same situation as the actress playing the wife of Alberto Sordi in a famous film of 1978 set at the Biennale in Venezia. As she was, you too were unaware to be seated on a work of art. No harm done: Gamper's work is not focussed much on the output (the chair), but on the process, instead -- i.e. on the dynamic of invention, design and production of the piece of art (yet, the chairs where you flopped down, exhausted). Indeed, if you are lucky, someone may make an offer to buy you (and the chair) for 18 millions!
---
Video: running away in the forest: Hubble bubble by Choi Jeong-Hwa
This exhibition is a lovely experience for young and old. Children will enjoy hiding and running in the green forest made with colanders of different sizes realised by Choi Jeong-Hwa, as well as listening to pistols, machine guns, and rifles singing graceful melodies. When they get tired, Martino Gamper's chairs are ready to accomodate them all.
Alessia Paionni
MAXXI National Museum for XXI century artsuseNational Museum for the arts of XXI centuryo nazionale delle arti del XXI secolo
via Guido Reni, 4 A
00196 Roma
Opening hours
Tuesday-Friday 11.00 am - 7.00 pm; Saturday 11.00 am - 10.00 pm; Sunday 11.00 am - 7.00 pm
Closed on Monday
Ticket office closes one hour before.