Garbatella celebrates its first 96 years with the inauguration of an exhibition at the Casa della Città from 22 February  EXTENDED TO 24 MARCH!
Free entrance

Monday - Thursday h 9.00 am - 7.00 pm
Friday h 9.00 am - 2.00 pm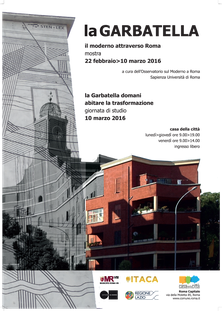 The exhibition is organised by the Osservatorio sul Moderno a Roma and curated by Gaia Remiddi, Antonella Bonavita, Piero Fumo and Maria Paola Pagliari. On display the results of national research on the Garbatella's houses and buildings.
96 explanatory panels – as many as the years of life of this district in Rome – illustrate the stainable urban model of the garden city, the houses designed by architect Giuseppe Nicolosi for ICP (Istituto Case Popolari, Institut of Public Housing), the hotels conceived and developed by architect Innocenzo Sabbatini, and the mixed types of buildings (houses and public baths, houses and cinema/theatre).
It all began back in 1920, in a cold day of February, when King Vittorio Emanuele III laid the first stone of the new district in Benedetto Brin square, thus starting the construction of the Garbatella. Actually, the name proposed for the new area was "Concordia", but the actual denomination – a tribute to a gentle and lovely (i.e. "garbata") innkeeper – eventually prevailed.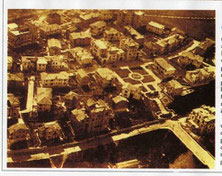 The construction programme envisaged the division of the land into lots designed and built up from the area of the river Tiber to the real heart of the disctrict, and to the house-hotels along Circonvallazione Ostiense.
However, the original project of a garden city was realised only partially, as it was gradually integrated with the construction of the hotels that became the new houses of the people displaced from the city centre after the demolition ordered by Mussolini in the area of the Imperial Forums area (what is now via dei Fori Imperiali).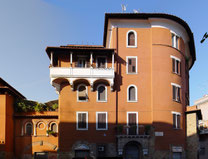 The Garbatella was originally designed as a banlieu to accomodate the workers of the port of Ostia, never established, and the industrial centre of via Ostiense. Later, it became the flagship of the modern urban evolution of the Capital, showing that public housing was perceived as a mission of high value by the architects and experts working in this project.
The exhibition presents a technical and rigorous approach, and appears to be dedicated mainly to a specialised public. However, I must confess that having the opportunity to go back over the history of the Garbatella has a special charm, especially for those people – like me – who actually live in this district.
Alessia Paionni
---