Goethe Institute in Rome, from 15 January to 16 April 2016
Monday h 2 pm - 7 pm; Tuesday - Friday h 9 am - 7 pm; Saturday h 9 am - 1 pm
Free entrance

Workshops for children

The award-winning German author Nadia Budde exhibits for the first time in Rome. Her artworks - drawings and illustrations - are displayed in the Foyer of the Goethe Institute in via Savoia, in a renovated exhibition space over the library.

Most of drawings on display have been created during the author's stay in Turin; indeed, the name of the exhibit (Creaturine) refers with irony both to the name of this city (Turin) and to the little creatures portrayed ("creaturine" in Italian).
People in Turin are the main source of inspiration for Nadia Budde: the different characters are mainly represented as little beasts or monsters, forming hilarious scenes where the personality and attitude of any subject drawn reach the highest level of amplification possible. The image of an old lady overdress and in furs that goes out for grocery shopping (almost a modern Snowwhite's witch) is emblematic in this respect, other than extremely funny.

The black and plastic stroke, the ugly and naive subjects (resembling children's drawings), and the absolute absence of any perspective do not affect the expressive potential of Nadia Budde's creaturine" at all, which  strikes the viewers to the heart (and to the stomach), be they adult or children.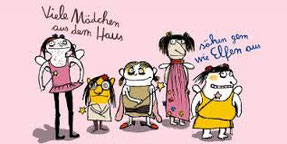 There is something ruthless and likable in these little creatures. The viewer can clearly see that human beings, beasts, paws, faces, and poses are a paradigm of the variety and funny tragedy of humankind.
In January, I visited the exhibition with my seven-year-old daughter; despite her initial suspicion towards these weird and homely little creatures, far away from the iconography of Disney princesses, she was then positively impressed by the drawn stories, especially the family portraits - extremely funny - and the intriguing mystery of the blood drops.
Alessia Paionni