THREE ARTISTS ON DISPLAY AT THE TALENT ART GALLERY
15 - 24 MAY 2015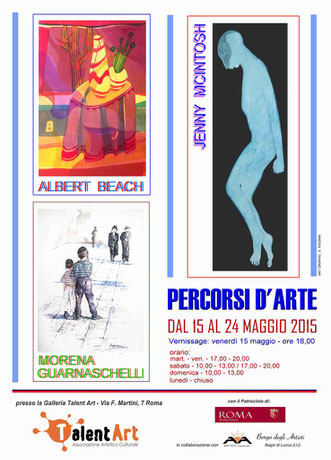 What is it that unites and makes the three artists exhibiting at TalentArt complementary to one another?
    Certainly what jumps instantly to the eye is their bond with Italy, with Bagni di Lucca, and everything that the area represents.  That town has always been a reservoir of memories and artistic expressions and yet it offers something more -- the leavening of modernity through a link with the ancient Anglo-Saxon world.  It is this aspect that interests all three of these painters.
    All artists introduce, by way of their expressions, an individual key for reading reality.  These three exhibitors are no exception to the rule.  The vivid use of color by Albert Beach, reminiscent of Gauguin, is a festival of light, a sunny embracing of life.  Jenny Mcintosh restates the nude using dancing poses without benefit of a narrative context immersing the figures in interrogative backgrounds.  And Morena Guarnaschelli interrogates her subjects through their portraits and creates a faithful compelling context of a cultural dimension.
    A dream world of coloUred light next to a disturbed world of undefined shapes evoking anxiety and a world painted with traditional brushstrokes conveying character and history, these are three keys, three diverse views that are closely related stemming from the same investigation:  what is this world we are in, and who are we?
    Ranging from coloUr, the stand out element and key of Beach's vision of reality, to the examination, one might say, of cultures in faces and bodies of Guarnaschelli's watercolors, to paintings interpreting reality through figures that dance using colors and postures evoking disorientation and rigidity by Mcintosh -- these three artists accompany us masterfully on a voyage of discovery, the discovery of our innermost desires, anxieties and histories.
    There could not be a more descriptive title to introduce this exhibit than that selected by the organisers:  PERCORSI D'ARTE  (PATHS OF ART): the passageways are, and have to be, different but the final destination belongs to all of us.
                                        adb