Comedy, surreal, spectacular juggling show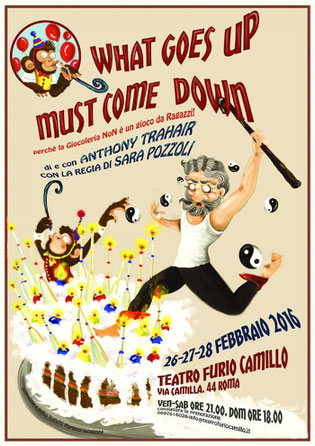 Artist and acrobat agile and powerful at the same time,  Anthony Trahair stages, with the direction of Sara Pozzoli, a comedy, surreal, and spectacular juggling show freely inspired by the Chinese savant Chuang Tzu, one of the funniest and more provocative masters of taoism.
After last January's success, the show is again on stage at
Friday 26 FEBRUARY h 9 pm,
Saturday 27 FEBRUARY h 9 pm, and
Sunday 28 FEBRUARY h 6 pm
We will be there on Sunday 28 February!
Will you come and join us?
Show for everybody: adults, children (min. 6 y), parents, and especially granparents
(why? See the show, then you will understand it).
I have known Anthony Trahair  some years ago, when I started attending his lessons of Yoga Arcobaleno together with my daughter, who was three at the time.
During these years, I have discovered the many talents of Anthony both as a Yoga teacher and as an artist: his Bachelor in chemistry gained in the UK, where he comes from; his studies  at theAccademia Teatro Dimitri in Switzerland (where he has perfectioned his acrobatic and jugglling skills); and his great passions for Yoga and Taiji.
In the latest years, Anthony has been tirelessly working on his book Pearls of juggling (Perle sull'arte del giocoliere), now published in Italian and English versions. The book leads you within an imaginary journey of initiation, towards the deepest values of practicing juggling as a form of self-awareness. It is for expert jugglers and for not-yet jugglers (since juggling is a serious thing and, therefore, must be taken seriously).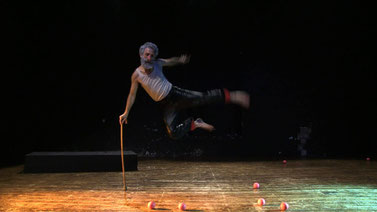 The show

Ten years after the conclusion of the studies at Accademia Teatro Dimitri, Anthony comes back to stage with a show, directed by his wife Sara Pozzoli, in which the ancient passion for juggling melts with the technique and lightness of Yoga.
As an extraordinary artist and acrobat, thanks to his agile and powerful body, Anthony succeeds in staging a comedy and surreal juggling performance where the fight against the gravity becomes a symbol of the paradox of life. During the fifty-minute show, this artist appears to be a real virtuoso of juggling and comedy.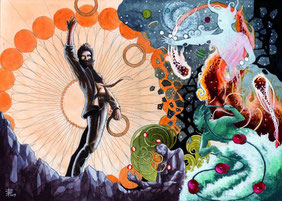 The exhibition

Show in the show, Teatro Furio Camillo also presents an exhibition where the original illustrations of the book Pearls of juggling are on display, together with a photo by Stefania Romano.
The drawings were made by several illustrators of the Scuola Internazionale di Comics in Rome Garbatella in close cooperation with the author during six months of hard work.
Illustrations by: Frederico Bardzki, Emanuele Di Spirito, Lavinia Leo, Isabella Mariucci, Giulia Peragallo, Erica Screpanti, Emanuela Squillacioti, and Davide Vrenn.
Opening: Monday - Friday from 3.30 pm to 7.30 pm (9 pm in case of any show).
Alessia Paionni
---
Teatro Furio Camillo
via Camilla, 44 – 00181 Roma (Metro A - Furio Camillo)
26 – 28 febbraio 2016
Monday - Saturday h 9 pm; Sunday h 6 pm
Full-price Ticket 12€ – Reduced-price ticket 10€
Info and booking: tel. 0697616026
www.teatrofuriocamillo.it